Best Bedroom Door Seller In Singapore
Looking for the best bedroom door sellers in Singapore? Look no further! When it comes to bedroom doors, this list features the top of the best. This list includes styles for every taste, from sleek and modern to more traditional.
In this article, we will list out the top five companies who give you the best bedroom door in the market we also include the types of bedroom doors each company offers!
So, whether you're looking for a new bedroom door to update your space or you're building a new home and need some inspiration, be sure to check out this list!
The Laminate Door is a company situated in Tradehub, Singapore. They are probably the best door and gate manufacturers in Singapore. Laminate Door supplies top digital lock brands. Our products are made with premium elements, and our craftsmanship is unmatched.
You can choose from a wide selection of their products to find the ideal door or gate for your house or place of business. They always have helpful staff on hand if you need assistance or advice.
They are best known for their doors and gates in Singapore. They produce and sell the top-most bedroom doors, which are water and scratch resistant, long-lasting with a range of appealing designs. There are many different types of doors available.
Types of Bedroom doors at Laminate Door:
Laminate bedroom doors
Veneer bedroom doors
Barn bedroom doors
Classic bedroom door
HDdoor is one of the leading manufacturers and suppliers of different doors and gates, but they do offer bedroom doors of superior quality with a wide range of products to suit every customer's needs.
Based in the Woodlands area of Singapore, HDdoor has been providing high-quality bedroom doors to happy customers in the Woodlands for many years. The company makes its products using the best materials and designs them to provide both fashion and functionality. From classic wooden doors to modern sliding doors, HDdoor has a door to suit every taste.
What makes HDdoor different than other manufacturers is its commitment to providing excellent service for its customers. HDdoor's team of experts is always on hand to help with any queries or problems you may have, ensuring that you are completely satisfied with your purchase.
Different types of bedroom doors from HDdoor :
Laminate bedroom door
Classic bedroom door
Bedroom barn door
Sliding bedroom door
Veneer bedroom door
Go Digital Lock supplies the best quality laminate bedroom doors located in Tampines. They offer top-end laminate bedroom doors with excellent customer service. Go digital is the perfect place to shop for your new laminate bedroom door.
They have a wide variety of styles and colors to choose from. You are sure to find the perfect door to match your décor. The helpful and knowledgeable staff will assist you in choosing the ideal door for your needs. Go Digital is your one-stop shop for all your laminate bedroom door needs.
Different types of bedroom doors from GoDigital Lock :
The only bedroom door they supply is the laminate bedroom door.
They do offer three designs for such laminate main doors:
Normal laminate designs
Groove line designs
Stainless steel designs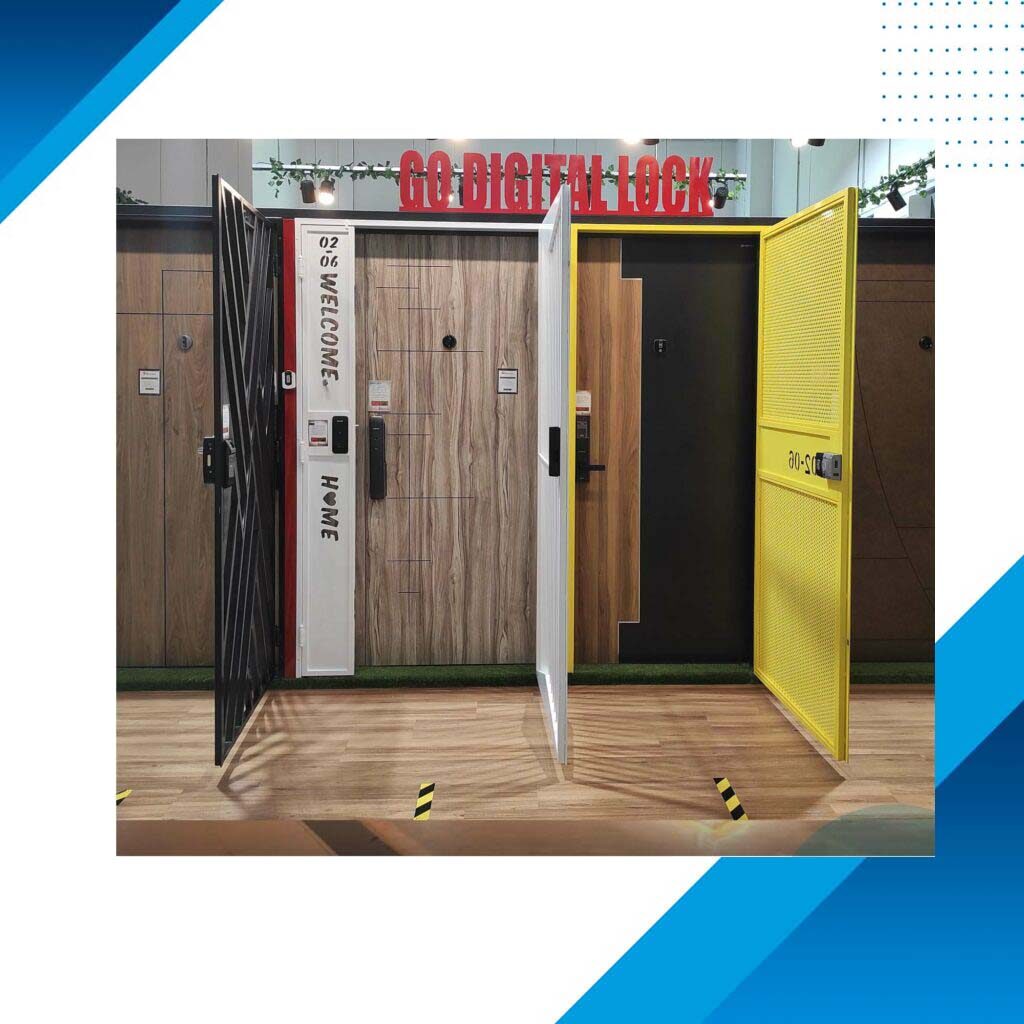 Door Visual is a door manufacturer situated in Bukit Timah. It is known for its customization capabilities and offers a wide range of products for both residential and commercial applications.
The company has a team of experienced professionals who work closely with customers to ensure that their specific needs are met. Door visual also uses the latest technology to produce high-quality doors that are both durable and stylish.
They do offer free shipping and installation! Whether you are looking for a simple design or something more elaborate, Door visual is sure to have a door that will suit your taste. So, if you are in the market for a new door, be sure to check out what this company has to offer.
Different types of bedroom doors from Doorvisual
Laminate bedroom door
Bedroom barn door
Premium bedroom doors
Liminal, situated in Queensway, is a manufacturer of high-quality bedroom doors. The company has 5-star reviews based on Google and Facebook.
The company only uses the best materials in the creation of products that are built to withstand daily use. A team of experts who are always on hand to address your questions or concerns stands behind Liminal's products.
Here are the Different types of bedroom doors from Liminal
Laminate bedroom door
Veneer bedroom door
In conclusion, here are the five best bedroom door sellers in Singapore: 1. Laminate Door SG 2. HDDoor 3. Go Digital lock 4. Doorvisual 5. Liminal These five brands are the best for quality, price, and customer service. If you want to buy a new bedroom door, go ahead and look at them.