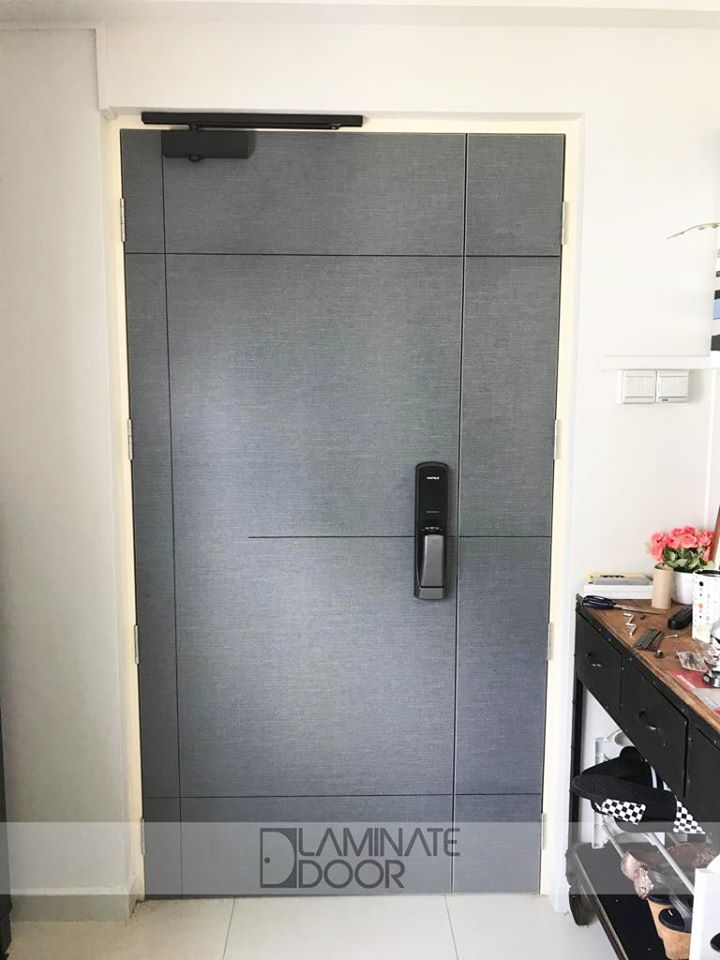 Fire-Rated Doors – Rules and Regulations
Fire-rated doors are famous for their use in commercial buildings – shopping malls, hospitals, business centers, and many others.
They play a crucial role in the attainment of the safety regulations of high-rise structures and other important buildings, which explains why they are everywhere.
Still, their purpose is way beyond the mere need for feeling secure. In the event of a fire, fire doors make possible the efficient and safe evacuation of the occupants.
According to the HDB rules and regulations, most HDB flats have to use fire-rated doors. For this reason, having some basic knowledge on the topic is a must, especially for homeowners that are looking to replace their fire-rated doors.
What is a fire-rated door?
Also known as fire-resistant, fire-rated doors serve as a means of slowing down or preventing the spread of fire and smoke. Such doors are usually heavy and use reliable and non-flammable materials like metal, gypsum, or fire-retardant MDF.
As the term "fire-rated" suggests, their primary purpose is to withhold the spread of combustion in a particular time frame. Fire-rated doors usually come in 20 to 90-minute ratings.
How do fire-rated doors work?
As previously mentioned, fire-rated doors serve as an obstruction to the spread of fire and smoke. Even though they are bound to burn through in extreme cases, they can win valuable time that might eventually allow residents to exit the building safely.
Besides, many people underestimate the danger of smoke inhalation, and such doors can effectively reduce the invasion of smoke for a specified period. Ultimately, fire-rated doors prove to be indispensable in the protection of the property and personal assets by minimizing the damage.
Types of fire-rated doors
Technically, there are countless manufacturers from all over the world, each with its selection of fire doorways. The most significant difference is the material.
In most cases, it's either wood or metal (mostly aluminum or steel). They can also classify according to their method of opening – hinged, roll up, sliding, and others. They vary in the number of leaves too.
Generally, a fire-rated doorway must pass specialized fire resistance testing before qualified as a fire resistance class of doors.
For the buyers, they have "minute" ratings that suggest the approximate period that the doorway can endure exposure to fire and heat. Most companies offer doors with a fire rating of 20 or 30 minutes, but some have higher scores of 60 to 90 minutes.
Also, homeowners should be careful when choosing a fire-rated door because the majority of retailers specialize in the manufacture of fire-resistant doorways for commercial settings.
Luckily, there are lots of companies that have a great selection of entryways for residential purposes. Contrary to popular belief, fire-rated doors can look elegant and stylish too. Retailers offer an endless number of styles to help homeowners achieve a comprehensive look in their home.
What are the HDB principal door regulations in Singapore? Do you need a fire-rated door for your HDB?
In truth, there's no clear answer as to whether a fire-rated main door is enough to prevent incidents in the event of a fire. However, the Singapore HDB principal door regulations indicate that such a doorway is a must in two cases.
1. When the HDB main door shares a common path of egress travel with the fire escape route.
2. When your HDB comes with an original fire door (usually double leaf), you need to replace it with a piece of the same door class.
If the main door shares a common path with the fire escape route, then it must have a 30-minute fire-resistance rating. Also, the frame must have a self-closing device to ensure the door can close from any angle and against any latch.
For those wondering whether their entrance door falls into the category, check if it's open to traffic areas such as a lift lobby or a staircase on your floor. Generally, every home that's within the 3-meter range from the nearest lift or staircase must have a half-an-hour fire door.
Also, note that the fire door must come with credentials. An HDB license contractor can carry out the installation and apply for a permit on your behalf before replacing your doorway.
What's more, the HDB regulations in Singapore state that fire-rated main doors installed initially by the HDB opt for the same class of entry as a replacement. Luckily, homes with entrances out of that range limit can get a solid wooden door as the main entrance.
What are the penalties for not installing a fire-rated door?
According to the latest Renovation Control Rules, homeowners can hire only HDB-registered renovation contractor companies to carry out their project works.
As mentioned previously, replacing a fire-rated door requires a special permit – a procedure that only HDB contractors can conduct.
There are strict penalties for those who don't comply with government rules and regulations. If convicted, a homeowner can get a fine of up to $10,000 or even a few months of imprisonment.
What documents are necessary for a fire-rated door in Singapore?
The first step to installing the entrance fire door is to order it from a licensed HDB contractor. Typically, homeowners need to provide a copy of the floorplan provided by HDB as well as an HDB acknowledgment form filled by the owner.
Then, the contractor applies for an HDB permit on your behalf. After the installation, the owner receives official permission from HDB within a month. There's also a certificate as proof of the quality of the product. In the end, the owner gets a sticker by Setsco or PSB to paste on the fire-rated doorway.
What types of fire-rated doors are there in Singapore?
In Singapore, home entrance doors are mainly of solid core materials due to the safety regulations of the government. There are three most preferred types of fire doors – classic (also known as varnish), veneer, and laminate fire-rated doors. Classic doorways are the most traditional and basic option on the market.
Lots of people prefer them because they are low cost. They come in natural-looking wood hues for a matching Mid-century or country appeal. The most popular colors are mahogany, cherry, teak, walnut, and dark walnut, but you can revarnish it in any color to create an entirely new look. The only drawback of these varnished fire doors is that their color starts fading quickly under sun and rain exposure.
At some point, veneer fire doors were trendy. However, the trend has already died out as many customers started complaining about the veneer surfaces fading out after the protective coating wears off. Besides, veneer doors might not be suitable for families with children and pets because veneers are prone to scratches. Other than that, veneer fire-rated doors come in a wide range of colors and are generally affordable.
After 2016, laminate fire doors have become the predominant home entrance door solution for all HDB BTO flats. These doors are resistant to scratches and are ideal for pet owners and parents with children.
Another huge advantage is that the color remains vivid and can survive inclement weather. Unlike veneer doors, laminate entryways employ thick ABS trimming. Even though these fire-rated doors are expensive, homeowners can choose from over 1000 different types of laminate to fully-customize their home entrance point.
Additional rules to consider
HDB fire doors should comply with the standard requirements and have a self-closing device. The purpose of such a mechanism is to return the door to its original position after being opened.
In cases with double-leaf fire doors, the self-closing device has to fit into the larger one. The cardinal rule opts for a clear width of the opening of the leaf, whereas its size is no less than 850 mm when opened at an angle of 90 degrees.
If the two sheets are of equal width, they both have to comply with the requirement and employ self-closing devices combined with a sequential door closer.
However, there are some cases in which such a gadget is more of a hindrance than of benefit. Instead, the government allows the installation of a fusible link or an electromagnetic or electromechanical device that activates via a smoke detector or an alarm system. Moreover, the fire door must allow manual operation without the use of a key, tool, or other specific means of access.
As mentioned above, the Housing & Development Board restricts the installation of unapproved fire-rated doors. Therefore, homeowners must buy products constructed and installed in compliance with the required specifications. The same goes for the door hinges.
Many residential apartments or maisonette buildings employ smart access methods such as card key access or automatic locking devices.
Such devices are effective against unauthorized access, but to gain entry to the staircase or the exit from it to any floor, occupants have to perform authorization to unlock or release the fire door. Therefore, the fitting of such smart systems into any door has to get approval from the SCDF.