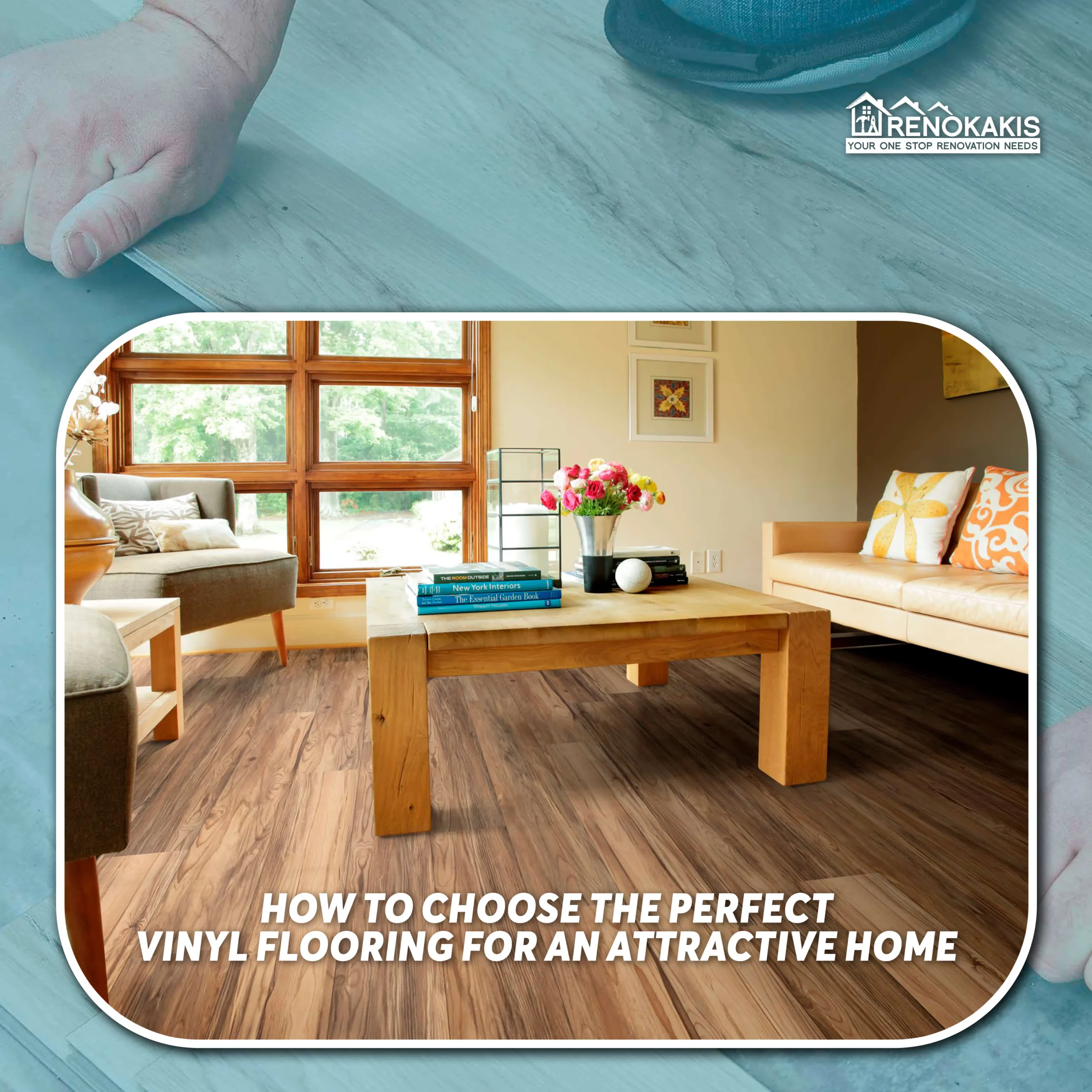 How to choose the perfect Vinyl flooring for an attractive home
Are you looking to give your home an instant facelift without blowing your budget? Then choose none other than vinyl flooring. This versatile and stylish option is perfect for those who want to upgrade their flooring quickly and easily. Whether you're a fan of classic wood grain or bold patterns, a vinyl floor is perfect for you.
But with so many options available, choosing where to begin can take time and effort. That's why we've compiled this guide on choosing the right vinyl flooring for your home. From finding the right style to selecting the best quality materials, we'll walk you through everything you need to know in order to make an informed decision about this popular flooring choice.
Why vinyl flooring is a great choice
Due to its numerous benefits, vinyl flooring is quickly becoming a popular choice for homeowners. For starters, it's incredibly durable and can withstand high-traffic areas without showing signs of wear and tear. Unlike hardwood or carpet, vinyl flooring is easy to clean & maintain, making it an ideal choice for families with children or pets.
In addition to its durability, vinyl flooring comes in a wide range of styles & colors to match any decor. Whether you're going for a classic look with wood-like planks or a modern feel with geometric patterns, a vinyl floor option will suit your style preferences.
Finally, one of the biggest advantages of choosing vinyl flooring is its affordability. While hardwood and tile are more expensive than vinyl, vinyl is less costly yet offers the same level of quality and aesthetics. If you're looking for a stylish & practical flooring option for your home that won't break the bank, consider installing vinyl floors!
Consider your lifestyle and needs.
When choosing the perfect vinyl flooring, you want to consider your lifestyle and needs. Do you have pets that shed a lot? Do you have young children who spill things often? These factors can impact the type of vinyl flooring that is best for your home.
For example, if you have pets or children, look for vinyl flooring with a protective layer to prevent scratches and stains. Consider a textured finish to provide more traction and prevent slips and falls.
On the other hand, if you live in a low-traffic area or don't have any specific concerns about durability, you may have more flexibility in terms of style options. You could opt for something with bold patterns or bright colors that make a statement in your home. Whatever your lifestyle and needs may be, there's sure to be a vinyl flooring option out there that's perfect for you.
Choose the right color and pattern.
Thirdly you need to Choose vinyl flooring that complements the style and decor. Vinyl comes in various styles, from classic wood patterns to modern abstract patterns. Select a style that matches your furniture, furnishings, and overall aesthetic. Choose a durable style and wear a layer if the room gets heavy foot traffic. Areas with low traffic can have thinner wear layers. Slip-resistant textures are good for high-moisture areas like kitchens and bathrooms.
You should also determine if you want a realistic wood or stone pattern or a more abstract design. Realistic patterns provide a natural look, while abstract patterns add visual interest. Wood and stone patterns can create a coastal or traditional style. Abstract patterns suit modern decor.
Look for durability and maintenance.
Vinyl flooring is an investment that can last long if selected carefully. Higher durability means the flooring will withstand foot traffic, scratches, and weather better over the years without deterioration. By doing this, you can avoid needing to replace the flooring too soon.
Durable vinyl flooring is more resistant to damage. Things like scratches, dents, fading, and cracks are less likely to occur. This helps maintain an attractive, high-quality look for longer.
When it comes to maintenance, Low-maintenance vinyl flooring is easier to care for. Some vinyl floors require frequent mopping, polishing, and waxing to keep them clean and shiny. Low-maintenance options have a durable, scratch-resistant surface that withstands dirt and grime with less effort.
Decide on the installation method
When choosing vinyl flooring in Singapore, it is important to decide on the installation method because it can affect the durability and lifespan of the flooring.
A reputable vinyl flooring supplier in Singapore will provide professional installation services, ensuring your floors are installed correctly and efficiently. This guarantees a seamless and attractive finish and helps extend the lifespan of your flooring.
There are different installation methods for vinyl flooring, such as glue-down, click-lock, and loose lay :
-The glue-down method is the most common installation method for vinyl flooring. It involves applying adhesive to the subfloor before laying down the vinyl planks or tiles.
-The click-lock method is a floating floor system that locks together without adhesive. 
-The loose lay method is a floating floor system that does not require adhesive or locking mechanisms.
So it's up to you and your requirements when deciding the best vinyl flooring for your home!
Compare costs and warranties
Vinyl flooring that lasts longer typically comes at a higher initial expense, but it will save you money & inconvenience in the long run. Stronger, thicker planks with higher wear layers tend to be more durable and dent/scratch resistant, though they are usually more expensive. A longer warranty period, e.g., 15 years vs. 10 years, signifies higher quality and is worth the investment.
Beyond upfront costs, think about life cycle costs. Vinyl flooring may cost more upfront but will require fewer replacements, saving time, effort, and additional costs down the road. Compare warranty periods to ensure your flooring choice will endure the test of time with little maintenance or replacement fees.
With some research, you can find high-quality yet affordable vinyl flooring options in Singapore with warranties to back them up. Compare specs, costs, and reputations to determine the best value for your needs and budget. And remember, the most attractive floors are not just beautiful but long-lasting.
Conclusion: Make an informed decision for your home
In summary, making an informed decision when choosing vinyl flooring is crucial for any homeowner who wants to create a beautiful and long-lasting home. Start by considering the location of your home, such as high-moisture areas like bathrooms or kitchens. You also need to think about the traffic flow and the amount of foot traffic that will be in each room.
Another factor to consider is the type of vinyl flooring you want. Do you prefer luxury vinyl tiles or sheets? Do you want a textured surface or a smooth finish? Knowing what you want before going shopping will save you time and help you avoid confusion when faced with numerous options.
Finally, don't forget to choose a reputable and experienced supplier who can provide quality products at reasonable prices. By taking these factors into consideration, you can make an informed decision for your home that won't just look great but also last for years without losing its appeal.